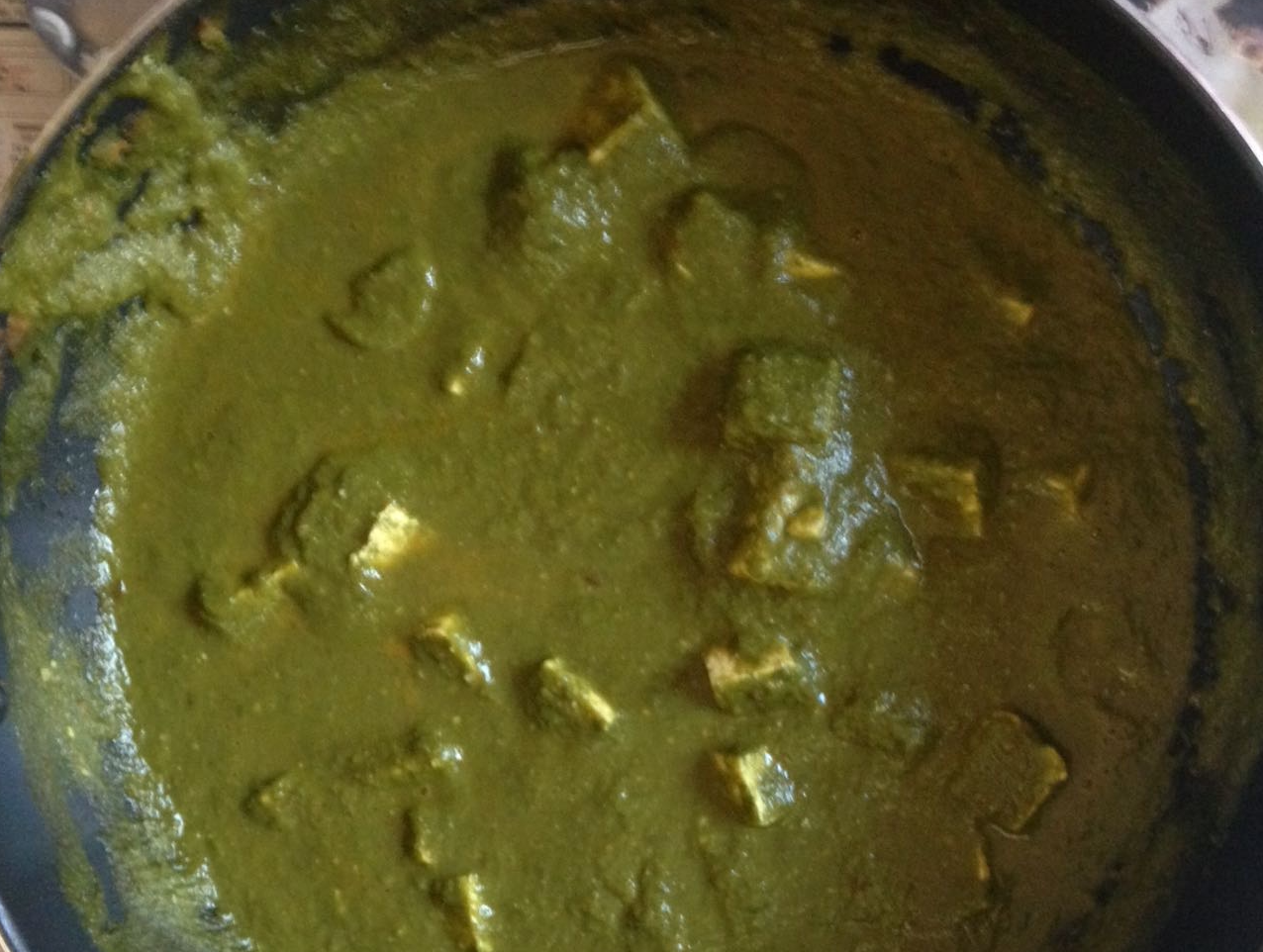 One of the most famous side dish in india this recipe can be relished with any indian bread of your choice . it is a combination of both health and taste .rich in iron ,calcium ,minerals and proteins it is good food for people of all ages..easy to prepare and very tasty to eat let's see what are the ingredients required and how to prepare it. No wonder Spinach(Indian name -palak) was our popeye's first choice when he requires strength to save olive .
Delicious!
2 cups

15 minutes including cleaning and chopping of spinach

25 minutes
Ingredients
Spinach or palak - one big bunch
Paneer - 200 gms
Onion - 2
Tomates -3
Ginger Garlic paste
Cashew nuts -10 to 15
Green chilly - 2
Coriander powder - 1 tbsp
Red chilly powder - ½ tbsp
Turmeric powder -¼ tbsp
Garam masala - 1 tbsp
Curd - 3 tbsp
Salt - according to your taste
Oil - 2 tbsp
Cream for flavour and also taste
Directions
Take a big bunch of spinach separate the leaves from stem and clean it using water with little amount of salt mixed in water as it helps to remove all the dirt from greens.
Take a vessel and keep water for boiling as soon as water starts to boil immerse cleaned spinach leaves and let it boil for 5 minutes and switch off the stove and take out the blanched spinach and immerse it in cold water by this our spinach will not turn black after cooking.
In a pan add 1 tbsp of oil ,when the oil is hot add chopped onions,green chilles ,ginger and garlic .after the onions turn translucent add tomatoes and cook till tomatoes turn soft and mushy .
Soak cashew nuts in warm water for 30 minutes
Allow the mixture to cool and then grind it along with blanched spinach and soaked cashew nuts.
In the same pan add 1 tbsp of oil and when the oil is hot add add the grinded mixture and cook till it comes to one boil.
When the mixture is cooking cut paneer into cubes and soak it in warm water so that the paneer turns soft (you can also fry paneer cubes in ghee to give more rich taste)
When the mixture releases oil add salt, coriander powder ,red chilly powder ,turmeric powder and cook it for one more minute.
Now whisk the taken amount of curd and then add curd to the palak paneer mixture (keep the flame in sim while adding curd as it may curdle)
Now simmer the mixture for 8 to 10 mins without closing the lid of pan and at the end add garam masala and fresh cream and bring it to one boil before switching off the stove (lid of the pan should not be closed as spinach may loose its colour )
Now garnish palak paneer with cream on top and serve it hot any indian breads of your choice or even with rice it tastes delicious.
More delicious recipes
This one of the many fanastic recipes available on this blog